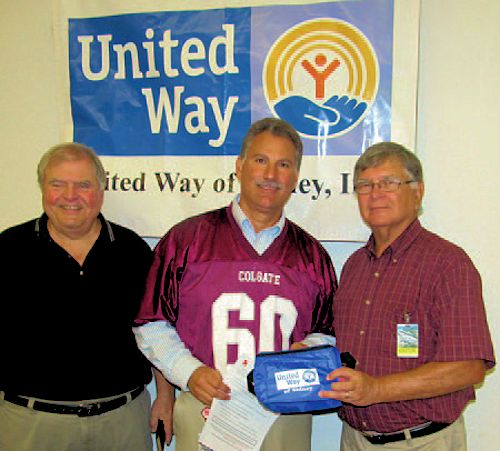 The United Way Campaign at ACCO Brands ended successfully. L to R: John Redente (Sidney United Way Co-Chair); Jeff Almasian (Sidney ACCO Brands General Manager); and Dennis Porter (Sidney United Way Co-Chair).

SIDNEY The two-week Sidney ACCO Brands United Way Campaign finished up on Sept. 24 with fantastic results! Employees gave generously, and the number of pledges and gifts increased significantly over the number of contributions last year.
As an incentive, the ACCO Brands Contributions Committee had challenged the local ACC O Brands Sidney site to increase the number of pledges by at least 10% to receive a $10,000 bonus contribution. The campaign far exceeded expectations, increasing the number of employee pledges by 53% and the dollars raised by 21.5% over last year's campaign. The total to be donated to the Sidney United Way Campaign from ACCO Brands and its employees will be $23,190.
"I am very proud of how our employees pitched in to help the organizations in our own community," said Jeff Almasian, general manager. "Employees give to different organizations all year, but for this campaign, we all came together to make a significant impact."
The Campaign, Support the Local Team, included a kickoff event with free ice cream and Cracker Jack, a spin the wheel game with small prizes, a visit by a number of United Way agency representatives and raffles for sports memorabilia. During the Campaign, employee pledges were included in weekly prize drawings for gift cards and vacation days, finishing with a grand prize drawing for a Microsoft Surface Tablet.
"We would not have a Sidney United Way without the contribution of ACCO Brands and its employees," said Dennis Porter, Sidney United Way chairperson.
Reprint from The Tri-Town News