SIDNEY - On Saturday, Sept. 25, the United Way of Sidney kicked off its 2010 annual campaign with the Nickelodeon 7th annual Worldwide Day of Play which encouraged kids and families to turn off their televisions and computers and to get out and play. This year's event attracted more than 150 participants to Keith Clark Park in Sidney.
Worldwide Day of Play is Nickelodeon's signature health and wellness event marked by its TV channels and websites going off the air and offline from noon to 3 p.m. to inspire kids and families to get up and get active. Kids in 10 countries and in every state across the U.S. participated in Worldwide Day of Play at more than 3,000 events scheduled worldwide including the event in Sidney.
Kids and their families had an opportunity to participate in a wide variety of activities which included face painting,bookmark arts and crafts, ultimate Frisbee, giant jenga, blow up darts contest and a bounce house. All those in attendance also had the opportunity to enjoy some delicious ice cream and free t-shirt and bag giveaways. The 2010 World Wide Day of play was a collaborative program that included a variety of community partners which include the Boys & Girls Club of Sidney, Boy Scouts of the Council, Kid's Kollege Nursey School, Cullman Child Development Center,Sidney Library and our local United Way of Sidney.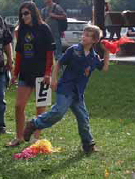 United Way of Sidney supports 15 member agencies and provides additional contingency funding that impacts the lives of countless community members. For 2010 the United Way of Sidney has a campaign goal of $87,200. The United Way of Sidney is committed to using donations wisely, locally and effectively to make a positive difference in the lives of people in our community. Members of the United Way of Sidney give countless hours serving our region. Because we know helping people matters, and we know it matters to you, too.
The United Way of Sidney will be mailing out their annual campaign letter soon. Please watch the mail for their important message, and support your community with your donation. The in-house campaigns at Amphenol, Mead Westvaco and the Sidney Central School are currently being organized.
For more information on the United Way of Sidney or to make a donation to this year's campaign visit www.sidneyunitedway.org.
Reprint from The Tri-Town News